Two-Shaft Bag Breaker
Bag breakers/Bale breakers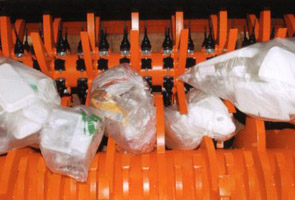 Bag breaker made through technical cooperation with BHS (USA). Superior performance in sorting recyclable waste.
It discharges the contents from the bottom, enabling mass processing.
---
Characteristics
Bag breaking efficiency is nearly 100 percent.
Its vertical discharge structure enables mass processing without blocking.
The plastic bags won't get mixed with the contents and removed easily by a protection mechanism.
When foreign articles enter the unit, it is protected by an overload protector.
Simple structure and easy maintenance.
---
Mechanism
【Two-shaft vertical drop mechanism】

Directly below the inlet port, large and small drums rotate in opposite directions at different speeds to break the bags and drop them down. (Patent applied)
【Retention bar】

The input bags are securely caught by the retention bars mounted on the small drum. The broken bags are kept on the bars and its elastic part protects bottles from breaking. (Patent applied)
【Protection /Safety mechanism】

When foreign articles enter between the large and small drums, the unit automatically repeats cleanout operation to prevent overload. Also, the unit has a safety mechanism so that if you forget to close the door it doesn't work.
---
Items to be processed
Plastics, plastics bottles, cans, glass bottles, kitchen garbage, other.
---
---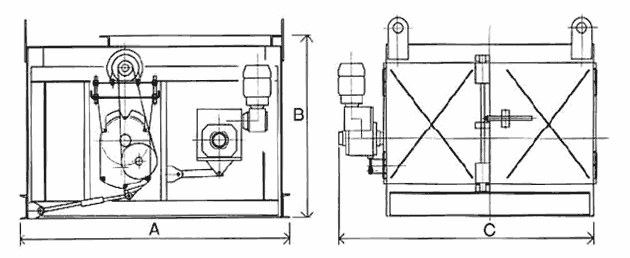 ---
---
---