Attachment
Gelande snow groomer


The pipe designer inline responds to every snow quality completely when forming or servicing the half pipe, due to rotary type cutting blade effect. In the shooter, there is a snow blower and cutter system which makes it is possible to blow out to optional place such as side and opposite side of the pipe. Such operations as piling snow in worn out places, mounding of the snow to the pressure snow car front, and discharging the snow to outside of the pipe are possible. Because of its lightweight structure, you can expect the highest performance. In addition because a rotary type cutting blade is used, the load on the vehicle body is decreased.
---
The quick change system is designed, in order to be able to exchange pipe designer and the blade simply. The electronic level monitoring system assists the operator to control pipe designer inclination, formation, etc.
The shape of this new half pipe (elliptic), is researched and designed to answer to the professional request of snow boarders and tournament personnel etc.
---
Job range( when installing on the DEERFORTE,PIPEDESIGNER )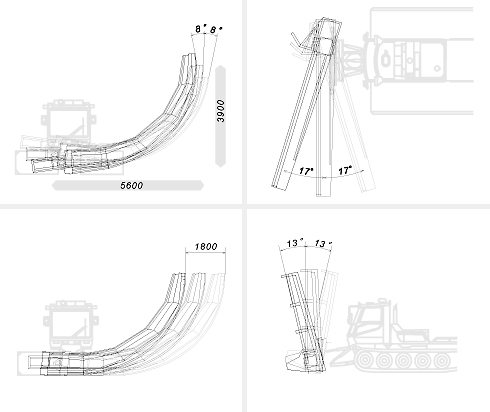 ※ The job range differs depending upon the installing vehicle
---
---
---
---