DF357
Gelande snow groomer


1

Easy Usage of Truly Necessary Functions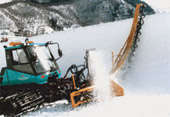 DEER FORTE 357 was developed focusing on the starting point "Easy usage of truly necessary functions."
---
2

High Operability

Meters and indicators are conveniently located and readily visible. All switches and levers are laid out considering their functions and frequency of use to pursuit operability and to prevent operator fatigue.
---
3

Caterpillar C9 Engine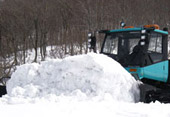 DEER FORTE 357 is equipped with Caterpillar C9 engine which meets Tier 3 regulation. With new hydraulic systems it has higher climbing ability and snow-pushing capacity.
---
---

DF-357
Measurement (mm)
Length
Vehicle Body
4630
With Front and Back Operating Equipment
8475
Width
Vehicle Body
4160
With Snow Removal Blade
5110
With Flex Rotor
5330
Height
Cabin Upper Parts
2650
Search Light Upper Part
2840
During Cabin Tilt
3200
Carrier
Length
1050
Width
2000
Height
1170
Minimum Ground Clearance
400
Tread(Windage knob center distance)
2302
Track Width
1655
Weight(kg)
Vehicle Body mass
7300
Working equipments (blade, tiller)
2000
Gross vehicle mass (oil, fuel included)
9300
Ground Contact Pressure Mpa(kg/cm²)
0.0064(0.065)
Engine
Name
CAT C9
Model
4Cycle、Water-Cooled、Direct InjectionDiesel Engine(Exhaust Turbo-supercharger with Air Cooler)
Engine capacity(L)
8.8
Maximum Output kW(pS)/rpm
242(329)/1800~2200
Maximum Torque Nm(kgf・m)/rpm
1485(152)/1400
Starter(V-Kw)
24-7.5
Alternator(V-A)
24-95
Fuel Tank Capacity(L)
260
Battery(V-Ah)
12-140 Phase×2
Power Transmission System
Drive System
Hydrostatic Transmission
Steering Handle
Electronic Control 2-Lever Type、Electronic Control Circle Type
Brake
Main Brake
Hydrostatic Brake
Parking Brake
Multi-plate Hydraulic Disk Brake
Performance
Running Speed(km/h)
0~20(Single Step)
Maximum Work Capacity(m²/h)
106600
Hill Climbing Capacity
100%、45°(Depends on road surface adhesion)
Minimum Turning Radius(m)
0(Pivot Turn)
Contents of this data are as at March 2012.
Due to product improvement, specification may change without notice.
    
The japanese notation of DF357 is DF350.
---
---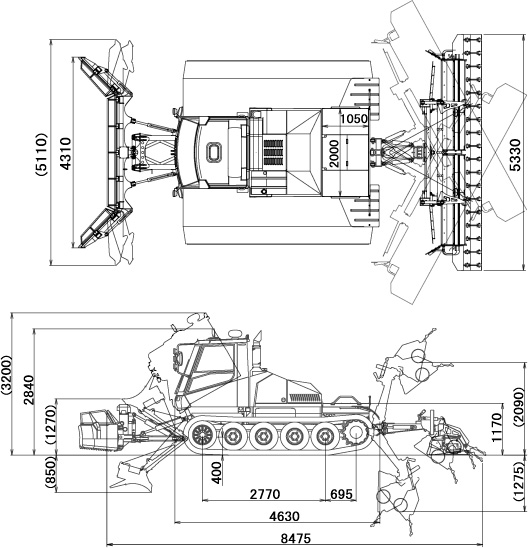 ---
---
---