Interior and Accessory
Gelande snow groomer

DF Vehicle Operating Room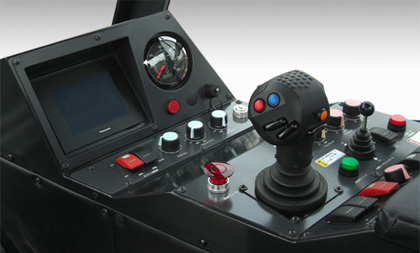 Easy operation inside the cabin is the design concept. For the operation lever, the grip type was adopted to lighten operation fatigue. In addition centralized operation of the front and back attachment has been made possible.


---
Circular Handle

General steering wheel type. Operationally, it can be boarded without a feeling of discomfort. Because it runs using the accelerator, fuel consumption is economical.
---
Lever Handle

There is no change of moving back and forth and so detailed operation can be actualized quickly. By fixing the engine rpm, job performance is always possible with constant power.
---
Touch Panel type 5 inch Liquid Crystal Display

Fuel Gauge, Water Temperature Gauge, Warning Light, Inclination Angle, and Clock are indicated on the LCD.
By changing the display with touch panel, it is possible also to indicate other vehicle information such as oil temperature and the like.


---
RECARO Seat

A special RECARO seat is situated in the center of the cabin. It is superior in visibility to all angles, comfort and safety as well as lightens the burden of long haul job substantially.


---
Track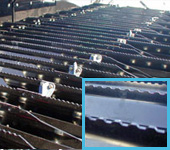 In order to raise the power of the grip with snow surface, the ground part has been processed to unevenness condition. It exerts strength on icy grounds, and its traveling efficiency is greatly improved.


---
Blade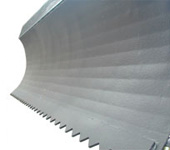 High tension steel sheet was fold processed so that the airspace between the blade surface and snow lightens the adhesion of snow making it possible for more efficient snow removal and transfer.


---
Pressure Snow Rotor

The flexible rotor fits finely to all types of snow surface for efficient performance of slope grooming. For camps, diversions and other mortar shaped courses it is possible to install flex (2 divisions), or tri-flex (3 divisions) which shows power in parks and other special slopes, on all models of the vehicle.
※The divided rotor can lock the refraction section and can be used as straight.
---
Pressure Snow Rotor Drive Shaft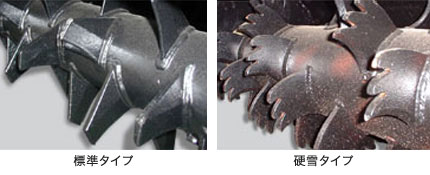 2 types of drive shaft can be adopted depending on the use condition. The standard type is suitable for ski areas with natural snow and wet snow, while the hard snow type is suitable ski areas where artificial snow and dry snow is plenty.
---
---
---