RIZIN(雷刃)
Gelande snow groomer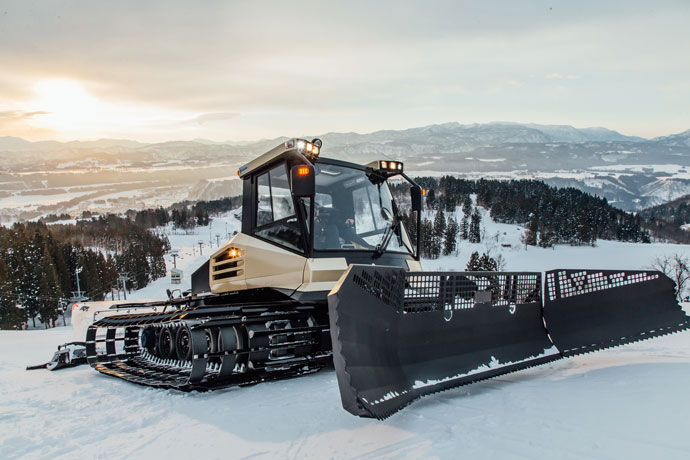 This new model is equipped with a Tier 4 Final engine.
It has the strongest climbing ability, and its overwhelming performance surpasses other existing medium-size models.
The tiller performance has been greatly improved by the introduction of patented new technology.
The new "MAS blade" and "ART tiller" completely overcome the weak points and realize a perfect finish in every snow situation.
All operators who engage in slope maintenance and those who enjoy snow activities will be satisfied with the performance of the RIZIN.



New front and rear lamps
・LED lamp
(high illumination/ high durability/ high visibility)


New side lamps
・Side lamp
(improved view in poor visibility)


New engine
・Scania
(high torque and high output at low rotation)


New driver seat
・Seat
(wide width adjustment/ secures good view/ alleviates fatigue)
・Air suspension
(reduced vibration / alleviates fatigue)


New wheel
・BBS
(forged aluminum alloy/ lightweight reinforced)


New tracks
・New track plates(tip grip/ lightweight high rigidity/ height extension)
・Rubber belt(widened width)
---
【MAS Blade】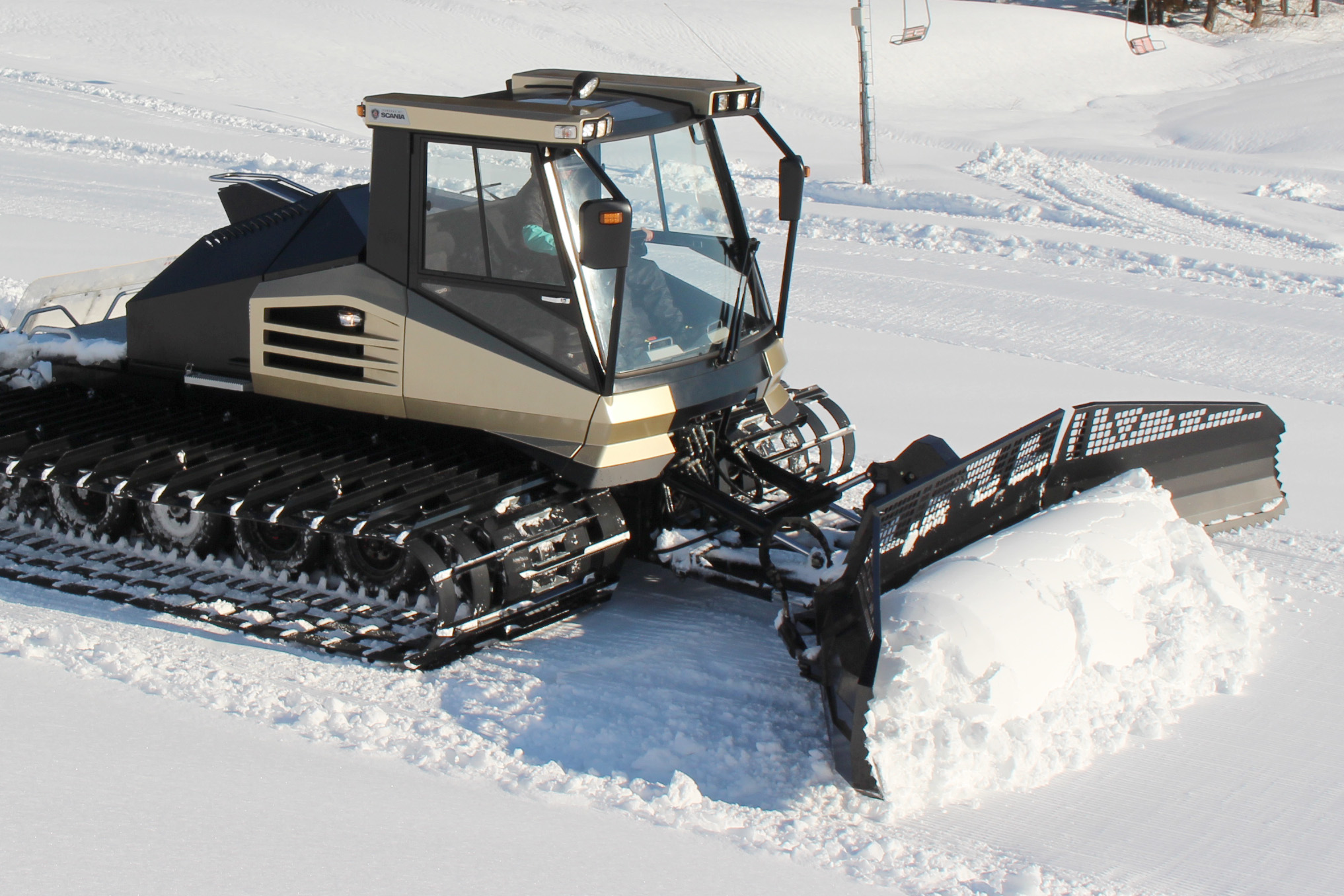 The wings of MAS blade are wider than those of conventional snow removal blades. It holds and passes snow easily, enabling to construct desired shapes in the park.
Also, the improved control system is easy to use, allowing every operator to manipulate the blade at will.
※RIZIN comes equipped with a park blade as standard.
【ART Tiller】
This ART tiller can handle snow in every snow condition by changing the cross-sectional shape of the tiller case. It reduces the load by 30% compared to that of the existing tiller, and changing the setting helps vehicle's propulsion, contributing to fuel saving.
| | |
| --- | --- |
| Hard snow | Soft snow |
---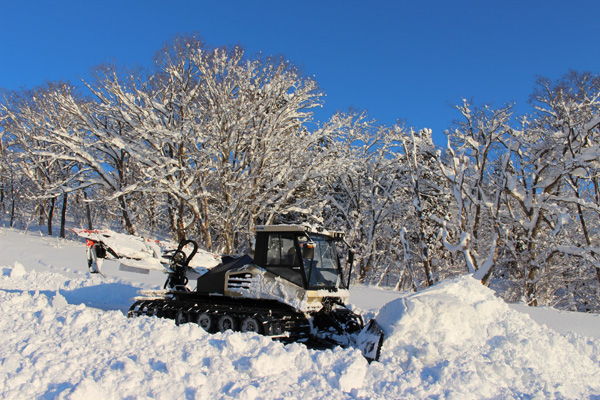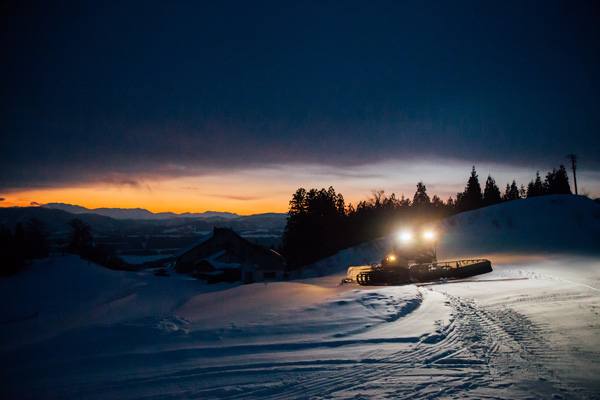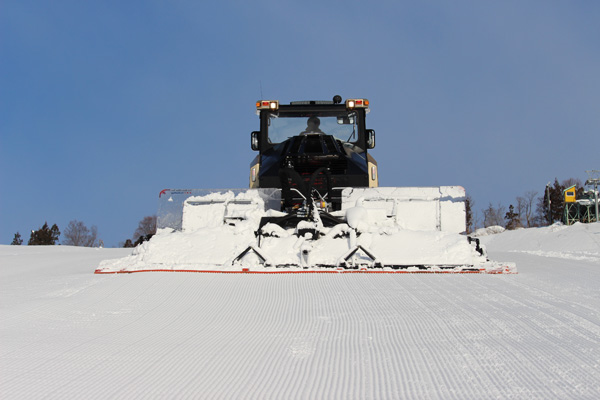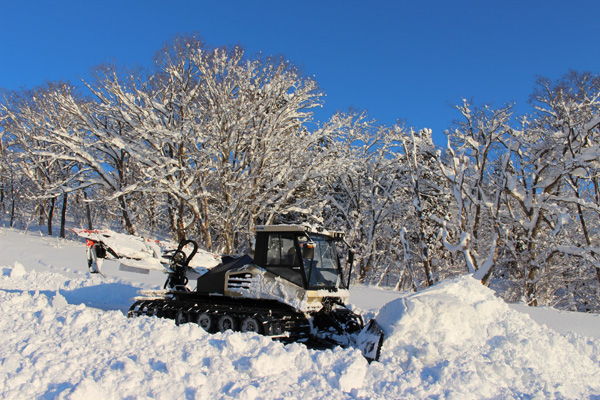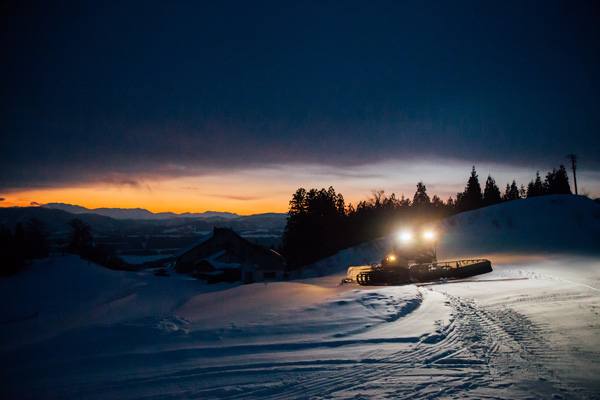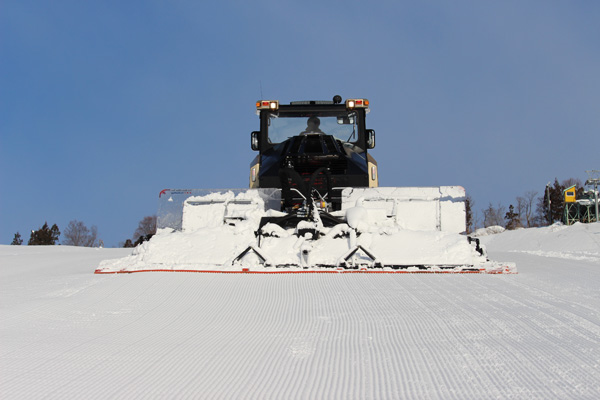 ---
---

RIZIN(雷刃)
Measurement (mm)
Length
Vehicle Body
4,925
With Front and Back Operating Equipment
8,620
Width
Vehicle Body
4,192
With Snow Removal Blade
5,790
With Flex Rotor
5,400
Height
Cabin Upper Parts
2,745
Search Light Upper Part
2,930
During Cabin Tilt
3,375
Carrier
Length
1,000
Width
1,700
Height
1,125
Minimum Ground Clearance
406
Tread
2,332
Track Width
1,650
Weight(kg)
Vehicle body mass
7,550/td>
Working equipments (blade, tiller)
1,950
Gross vehicle mass (oil, fuel included)
9,500
Ground Contact Pressure Mpa(kg/cm²)
0.0065(0.067)
Engine
Name
SCANIA
Model
DC09 085A
Engine capacity(L)
9.3
Maximum Output kW(pS)/rpm
257(350)/1,500~2,100
Maximum Torque Nm(kgf・m)/rpm
1,800(184)/1,300
Starter(V-Kw)
24-6.0
Alternator(V-A)
24-100×2
Fuel Tank Capacity(L)
225
Battery(V-Ah)
12-140Phase × 2
Power Transmission System
Drive System
HST
Steering Handle
Armrest lever (center post handle)
Brake
Main Brake
Hydrostatic brake
Parking Brake
Multi-disc hydraulic brake
Performance
Running Speed(km/h)
0~20(Single Step)
Maximum Work Capacity(m²/h)
108,000
Hill Climbing Capacity(Depends on road surface adhesion)
84%、40°(According to engine specification)
Minimum Turning Radius(m)
0(Pivot Turn)
Fuel(L/h)
18
Main equipment
Crawler track
Steel tracks (hard snow/ soft snow)
Lamps
Halogen + LED light
Tiller
Tri-flex (straight)
Drive shaft
Adapted to hard snow and soft snow
Adjustable regulator
Hydraulically adjustable
Cabin
ROPS structure
Environmental performance
Noise Reduction /Vibration Reduction /Tier 4 Final
●Contents of this data are as at April 2016。
●Due to product improvement, specification may change without notice.
●Scania is registered trademark of SCANIA GROUP.
---
---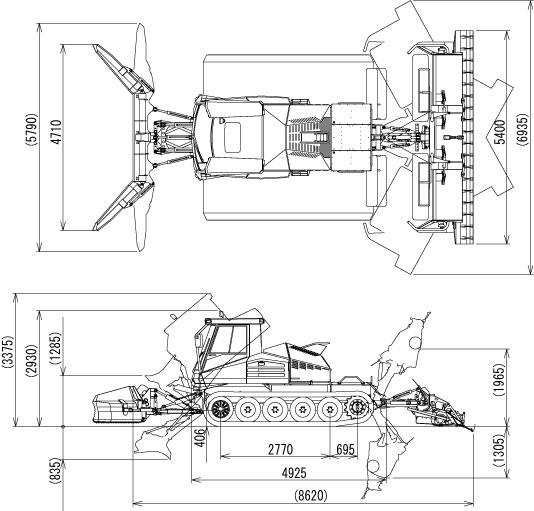 ---
---
---
---