PRI-MAX Primary Reducers
Shredders


PRI-MAX has more powerful function than many other powerful shredders. Its shear mechanism enables shredding, tearing, punching, chopping, splitting, flattening, smashing and breaking. With its unique cutter structure and open gate design of the cutting table (patented), it processes almost everything.
---
Structure/Characteristics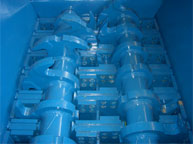 Waste is crushed between rotating cutters and fixed cutters. The wider spaces between rotating cutters prevent damages by foreign articles.
Fines such as rocks and dirt fall through the open-gate reducing wear on the cutters.
Bridge formation and winding by processed items are prevented by our own program.
Waste can be processed by both normal rotation and reverse rotation, increasing efficiency.
Low-speed hydraulically-powered design enables environment-friendly operation where fines are minimized and high-reliability is achieved with a little maintenance.
---
Items to be processed
Bulk waste (combustible/non combustible), municipal waste, mixed bulk waste, waste wood and stub.
---
Examples
Furniture

Mattresses

Bicycles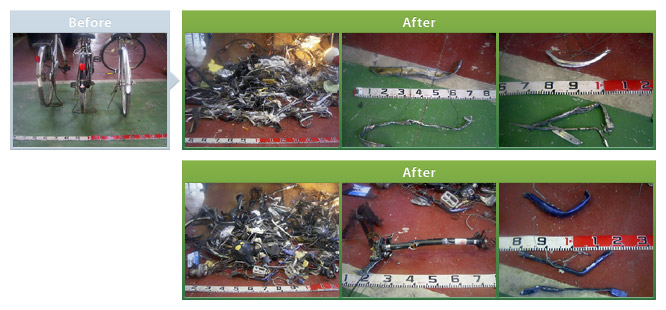 Sofa

Tatami mat

Home electronics

---
---
---
---