DF430
Gelande snow groomer


The job width of six meters which realizes a high efficiency with a stable power of over 400 horsepower is the big advantage solely available on the DEER FORTE 430.
In addition, an optimal balance of the vehicle was achieved by a substantial revision of major components and a lower center of gravity.
It certainly meets Tier 3 environmental standard.
DEER FORTE 430 with a higher level of hill climbing and snow-pushing capacity produces highly desirable ski resorts.
---
1

Further PowerUp

We have achieved an optimal weight balance by reviewing major components and lowering the center of gravity. Also we attained a lighter body and a low ground pressure. You will be satisfied with its powerful climbing ability an pushing capacity.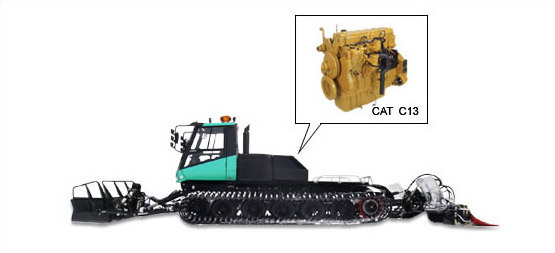 ---
2

Improved Habitability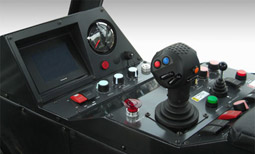 A more comfortable work environment has been realized by expanding cabin capacity, improving visibility, reducing vibration, improving air conditioning, and optimizing arrangement of the switches.
The center driver's seat has a great advantage in visibility and it makes the job easier on narrow courses such as under lift lines. It reduces physical and mental burden on the operator even for long hour jobs.
---
3

Improvement of Durability (reduction of running cost)

To improve the vehicle durability, we have aimed at optimizing the total balance and reducing weight considering equalization of stress distribution and using high-grade materials including high-tension steel and special alloy steel for structure parts such as frames and chassis, and for underbody parts like suspensions.
For spare parts supply and trouble-shooting, we have a thorough support system to respond quickly.
---
4

Functions

The digital control system enables more delicate driving controls.
The operator can operate the blade and the rotor with a single control lever.
---
---

DF-430
Measurement (mm)
Length
Vehicle Body
5670
With Front and Back Operating Equipment
10090
Width
Vehicle Body
5000
With Snow Removal Blade
6000
With Flex Rotor
6230
Height
Cabin Upper Parts
2720
Search Light Upper Part
2910
During Cabin Tilt
3280
Carrier
Length
1580
Width
1550
Height
1150
Minimum Ground Clearance
385
Tread
2750
Track Width
2000
Weight(kg)
Vehicle body mass
9300
Working equipments (blade, tiller)
2100
Gross vehicle mass (oil, fuel included)
11400
Ground Contact Pressure Mpa(kg/cm²)
0.0053(0.054)
Engine
Name
CAT C13
Model
4Cycle、Water-Cooled、Direct Injection Diesel Engine(Exhaust Turbo-supercharger with Air Cooler)
Engine capacity(L)
13.0
Maximum Output kW(pS)/rpm
310(421)/1800~2100
Maximum Torque Nm(kgf・m)/rpm
1896(194)/1400
Starter(V-Kw)
24-7.5
Alternator(V-A)
24-95
Fuel Tank Capacity(L)
290
Battery(V-Ah)
12-140 Phase×2
Power Transmission System
Drive System
Hydrostatic Transmission
Steering Handle
Electronic Control 2-Lever Type、Electronic Control Circular Type
Brake
Main Brake
Hydrostatic Brake
Parking Brake
Multi-plate Hydraulic Disk Brake
Performance
Running Speed(km/h)
0~18(Single Step)
Maximum Work Capacity(m²/h)
112140
Hill Climbing Capacity
120%、50°(Depends on road surface adhesion)
Minimum Turning Radius(m)
0(Pivot Turn)
Contents of this data are as at March 2012。
Due to product improvement, specification may change without notice.
---
---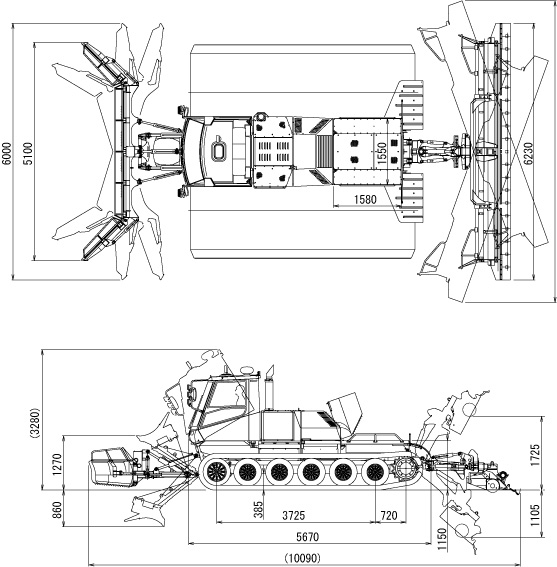 ---
---
---