Screw Auger Type Bale Breaker
Bag breakers/Bale breakers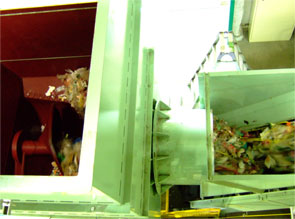 A bale crusher for mass-processing.
With a large feed opening, it accepts various shapes and input methods.
---
Characteristics
The unique screw auger crushes bales.
Low rotation speed, low noise, low vibration, and low dust level.
Automatic reverse function by load detection prevents stopping due to jamming.
Simple structure and easy maintenance with few consumable parts.
---
Items to be processed
Waste plastic bale, plastic bottle bale, waste paper bale, other bales
---
---
---
---