Tow-Shaft Shredder
Shredders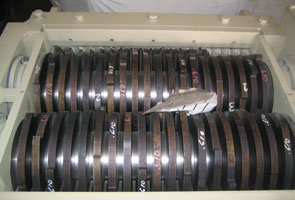 We sell SSI (Shredding Systems, Inc. in the U.S.) products that outperform competitors in its quality and durability. We provide necessary documentations, witnessed test, spare parts, maintenance and after-sale services.
This two-shaft shredder is made by SSI, the best-selling manufacture in the U.S., with its unique technologies.
---
Structure/Characteristics
The unique technologies of SSI, the number one manufacturer in the U.S.
Configured with either hydraulic or electric power options with HP range of 5 -600 to process all kinds of wastes.
A wide variety of cutters for item to be processed.
Electronic waste with motors can also be shredded with uniquely heat-treated cutters.
Individual design is possible according to the needs.
The patented "Smart Drive" enables hydraulic-like motion with electric power.
The hydraulic push-in equipment enables shredding avoiding unnecessary motion.
The patented "Locking System" prevents loosening of the cutters during operation.
Advantages over traditional high-speed shredders
It can shred various wastes including metals.
Work environment is improved (dust, noise level etc.)
Improved reliability
More convenient preprocess
Automatically controlled processing speed
Lower equipment investment and maintenance cost
Lower labor cost and running cost
No special foundation work is required
---
Items to be processed
General solid waste (high-bulk waste), plastics, pulp, paper, construction waste, industry waste, tires, electronic waste, metals, iron drum, hazardous waste, cardboard.
---
Optional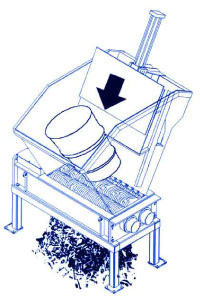 【Ejection device】
Unshredded item will be automatically ejected.
【Advanced Cutter Locking System (ACLS, patented)】
The cutters and spacers are locked by 45-ton force and the cutter performance is dramatically improved.
【Ram Hopper】
This helps the cutters grab the material and increases shredding efficiency.
【Smart Drive】
This allows electrical shredders to simulate the performance of hydraulic machines with smaller installation space than hydraulic shredders.
---
---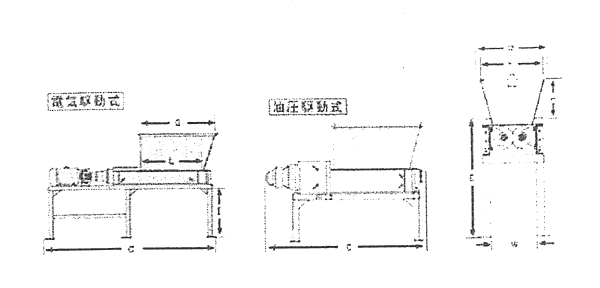 ---
---
---