Debris Roll Screen
Sorting syste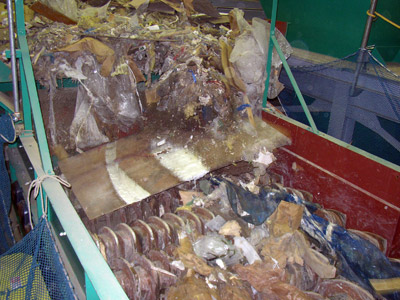 The polygonal discs are in-line and the materials are uniformly conveyed bouncing over the screen without the machine vibrating.
The double-disc structure and the unique disc alignment prevent clogging and entanglement, and it is possible to process large volumes. Effective for pieces hard to be processed by a vibrating screen or trommel sieve.
---
Structure/Characteristics
Mass processing with a compact body
No clogging or entanglement
Accurate sorting
Fixed output to the following process
Low noise and low vibration
---
Mechanism
By changing the number of discs and number of shafts, it offers greater flexibility to process various materials of various volumes.
The motor with an inverter can be variably controlled. With an optional jack, the tilt angle can also be adjusted allowing to process wider range of materials.
【Double-disc mechanism】
The double-disc mechanism prevents articles from passing through enabling accurate and efficient sorting. The curved polygonal discs maintain constant gap width regardless of the phase.
---
Items to be processed
Construction waste, shredder dust, turned soil, burned ash, recyclable waste, kitchen garbage, other
---
Example of construction
Mixed waste sorting facility
Plastic bottle sorting facility
RPF production plant
Landfilled solid waste reprocessing plant
Incinerated ash recycling plant
Cardboard sorting facility
Bulky waste disposal facility
Biogas pretreatment facility

 
---
---
---
---